Channel 10 WTHI Terre Haute reported the photo on the left
as a tornado that touched down in Lawrence County, IL.

Photo submitted to NWS Indianapolis and WTHI Channel 10 as the tornado in Lawrence County on
June 11, 2009 - Photo courtesy Knox County EMA.

Lawrence County EMA photo taken June 16, 2009
of the Merom Power Plant smoke stack.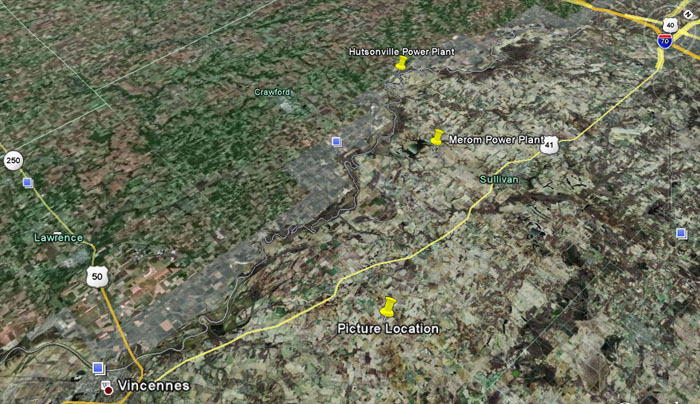 Hutsonville Power Plant 23 miles from picture location. Merom Power Plant 15 Miles from picture location.
Photo courtesy Google Earth

The National Weather Service DID NOT confirm a tornado Northeast of the Lawrenceville-Vincennes Airport
on Thursday evening 6/11/2009. The storm in question was not of significant size to produce a tornado.
The NWS observed no rotation via radar in this storm. Trained Weather Spotters from
Lawrence County AND Knox County, IN observed no severe weather in this area.